We Protect Your Home and Family
We use environmentally safe chemicals that do not harm children, babies or pets and we do comprehensive home treatments. I personally built our own home in a rural area and I did everything to protect my investment. I made sure I had excellent insurance coverage, home security, and the right type of locks. But, there are other unwelcome home intruders that can cause damage – household pests. I personally recommend a yearly home visual inspection inside and outside. There are certain common problem areas such as exposed wood surfaces, gutters and soffit. Some of the more serious pests are carpenter bees, carpenter ants, termites and yellow jackets. These pests can cause damage that is very costly. Pests can also be a health hazard and disease carriers. Preventive pest control is the best answer for your home.
We treat homes once or twice a year, depending on circumstances. Most homes only need one treatment. What is important is how that treatment is done. We do comprehensive spraying from the baseboard to the ceiling in every room of your residence. We include the basement and attic. Outside the home we thoroughly spray the perimeter of your home and other areas that may need it, including a detached garage.
read more
We specialize in Bat Exclusion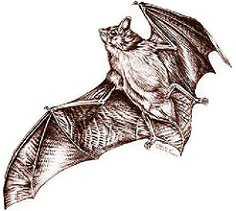 Bats are considered beneficial animals because they feed on insects. They are also a big problem if they are residing in your home. A good friend of mine had a family of six children. One night a loud scream came out of the third floor bedroom. His son panicked when a bat flew around the room. Needless to say, that night was an adventure in attempts to capture the bat. What my friend did not know was that bats pose a threat to human health. The Pennsylvania Game Commission said in a 2002 ruling that, "These species, especially little brown bats, now use human structures as primary roosts and can concentrate in large numbers." 
The human health threat is Histoplasmosis, a disease associated with bat guano and bird droppings. When these accumulate, a fungus (Histoplasma capsulatum) can grow and produce spores that may cause Histoplasmosis when inhaled. When bat or bird droppings accumulate, in an attic for example, care should be taken to avoid contracting this disease. A cleanup becomes necessary and removal should be left to professionals (Source: Illinois Department of Public Health).
Something you should know is it is against the law to exterminate a colony of bats in Pennsylvania, even in your own house. Call us at 724-543-6754 and we discuss your particular situation.
More important is removing the bats. The process for this is Bat Exclusion and is the best way to prevent and control bats in a structure. We are specialist in this process and do a thorough job of removing bats. The only long term solution to a bat problem is with the use of bat exclusion. Bat exclusion or "bat proofing" is the process of (1) removing the bats, (2) cleaning up, and (3) sealing every opening on the exterior of a structure to prevent any possibility of bat entry. That involves properly sealing every opening along roof edges, chimneys and vents bats may use to enter your home. Bat exclusion work is best left to a professional with experience in locating bat entry points and proper exclusion techniques.
Don't wait another day to rid your home or business of bats. Call us at 724-543-6754 and we discuss your particular problem, what is involved, estimate the cost and give you a schedule of carrying out the Bat Exclusion process. We guarantee our work.



We treat these pests and other varities:
· Carpenter Bees   
· Carpenter Ants    
· Yellow Jackets           
· Lady Beetles
· Stink Bugs    
· Flies
· Fleas
· Cockroaches
· Spiders
· Lady Bugs
· Wasps
· Ants
· Millipedes
· Silverfish
· Mice
· Rats
We also trap pesky wildlife on your land:
· Skunks
· Raccoons
· Groundhogs
· Snakes



Log Cabin Specialists
We are experienced and guarantee our services for Log Cabin protection from carpenter bees; Bat Exclusion services; and, trapping pesky wildlife on your property.





Read what our customer's say . . .
"I highly recommend Mr. Randy Smith of Armstrong Animal and Bug Control for all your pest control needs. I have had the usual pest problems (wasps, bees, mice, and snakes) over the years. I've tried other "franchise" pest control people with little success. I've been with Randy Smith for 7 years now and find him to be very professional, knowledgeable, affordable, and friendly. He takes care of my house twice a year and I have definitely noticed a difference. My wife and I sleep better knowing that Randy is on the job."
Dr. MPM
Upper Burrell, PA
"When I needed preventative pest control I was concerned about safety with a 3-year old child that has pre-existing health conditions and our pets at home. The first question I asked was if the products used were eco-friendly and safe for child and pet exposure. We continue to be very pleased with his environmentally friendly products that are safe for our home. I highly recommend Armstrong Animal & Bug Control." 
KC
Chicora, PA
"It was the first time we ever used an exterminator. Service was prompt, fast, thorough, and safe. I have Armstrong Animal & Bug Control come every year and we continue to be pest free. I have never had to call them back for any problems or a second treatment in the same year. What surprised me were their low rates and no attempt to sell me a contract. They are so good that I recommended his services to our Borough for a serious skunk problem. They hired AABC and have used their services every year since. Excellent service, excellent pricing, and a trustworthy company."
SJM
Vandergrift, PA


Download our flyer here... PDF