Welcome to Armstrong Animal and Bug Control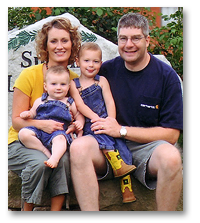 Hi, and thanks for visiting us. My name is Randy Smith and we are a family owned business serving this area for over 16 years. I grew up on a farm just down the road from where I now live in a rural area near Kittanning. The values I learned growing up on a working farm are the same values that I use in our business – honesty, safety, high quality work and being a good friend of our customers. I was still working in a mill when we started this business. Through hard work we were able to build the business by retaining nearly 98% of our customers every year. They stayed with us because we deliver excellent
comprehensive services at the lowest cost, do a better job than the big companies, give you more coverage, and personal service. We do not "sell" you services you do not need and do not require contracts for residences. We want customers to come back and stay with us because of how well we do.
I invite you to continue reading all our information on this website and learn why we were selected the Tribune-Review Media's 2012 Reader's Choice Gold Award. Give me a call at 724-543-6754 if you would like a quote to treat your home or business.
$20 OFF - FIRST TIME CUSTOMERS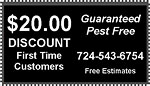 Take advantage of this special introductory offer to new customers! $20 off with this coupon.
GET COUPON Here